We had already learned that walking on exciting paths does not fit together with with using prams. But we still very much liked the idea of a real mountain hike, soon after the birth of our daughter. So we tried the obvious: a sling (in fact, this is exactly the one, except for that we use the version without "ring". We've been using it outdoors and indoors with pleasure for four years now)! At home, this had already worked well, our baby has almost always felt comfortable in the sling from the beginning. So now that spring had just arrived, we urgently needed to try its first outdoor use out in the mountains!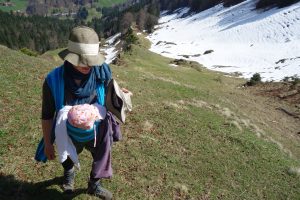 We chose a rather short and low hike in the foothills of the Swiss Alps (Alpstein) for the beginning, the "Ofenrohr" (stovepipe) hike. The first ascent felt still a bit strange, after several months break. And we immediately found out about a disadvantage of the sling, which is usually an advantage: you are very close to your child with this technique. Meaning also that both carrier and baby share a lot of body heat between each other. Which sometimes feels less than comfortable during sports. Anyway, our little girl was peaceful and apparently satisfied in the sling. And even a practical cuddle cloth and a mobile sunscreen came along this time (later on we also started to handle this a little more pragmatic).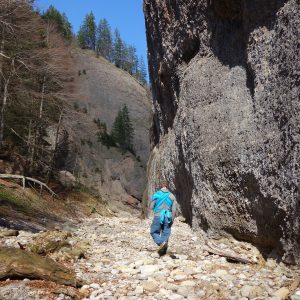 On the big picture here at the top you can see that when we arrived at the top of the mountain we had quite a successful picnic. And we parents were very happy with the tour, and with the baby sling. Whereby it is of course pleasant, when two "carrier animals" are available. On the one hand you can take turns with the occasionally somewhat warm baby and carrier. And on the other hand, it feels nicer when the backpack with change things, diapers, food etc. is worn by someone else.
besides: the area around the Ofenloch, with its surprisingly mighty rocks, is really wonderfully beautiful! And for us it is a beautiful (re-)entry into the world of hiking. On the small narrow and hidden hiking trails we prefer!
We also tried other great carrying options later on like the child carrier. And also many great hikes. But for the start into a fulfilling outdoor life with baby and toddler we can fully recommend the sling!
---
As an Amazon Associate I earn from qualifying purchases. The links marked with an asterisk (*) are so-called commission-/advertising links. For purchases via such a link I get a commission, the purchase price does not change. Please note: we only review positively what we really
like
!
---